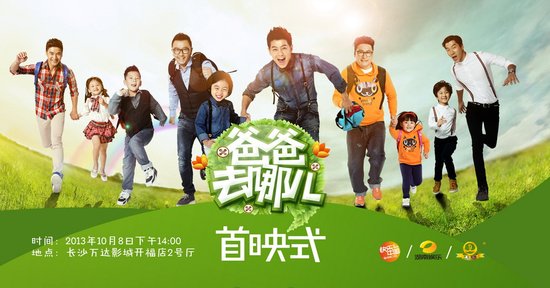 A film based on a reality TV show 电视真人秀 took £9.8m on its first day of release, breaking the record 打破记录 for a single day's earnings for a Chinese language movie.Dad, Where Are We Going 爸爸,我们去哪儿? is based on the hit programme 热播节目 of the same name which aired last year.
The show followed five celebrity dads 名人爸爸, who were used to spending lots of time away from their children, attempting to look after them single-handed.The film was released on Friday, the first day of the Chinese New Year.
The TV version of Dad, Where Are We Going? spawned several parenting books 育儿书籍 while some of the children who appeared in it landed advertising deals, according to the Los Angeles Times.
In the film the fathers can be seen taking their children to a wildlife park 野生动物园, making dumplings 包饺子and brushing their pets' teeth.
Boosted by the price of 3D and Imax tickets, 3D movie The Monkey King took £31m between Friday and Sunday, beating 打败 the £23.8m Dad, Where Are We Going? made over the same period.
Yet Dad Were Are We Going? reportedly sold 500,000 more tickets than its action rival between Friday and Sunday.Both films will face stiff competition 激烈的竞争 later this week when Disney's blockbuster animation Frozen is released on Wednesday.
Box office revenues in China have seen a steady growth in the past few years.
重点词汇 Key Words
diàn shì zhēn rén xiù
电   视  真   人  秀
reality TV show
dǎ pò jì lù
打 破 记 录
break the record
rè bō jié mù
热 播 节 目
the hit programme
míng rén bà bà
名       人  爸  爸
celebrity dads
yù ér shū jí
育 儿 书 籍
parenting books
yě shēng dòng wù yuán
野 生    动   物 园
wildlife park
bāo jiǎo zǐ
包  饺   子
making dumplings
dǎ bài
打 败
beating
jī liè de jìng zhēng
激 烈  的  竞  争
stiff competition
Tags: Chinese Film, Dad, Film, Film Box Office Record, Reality TV Show in China, Where Are We Going