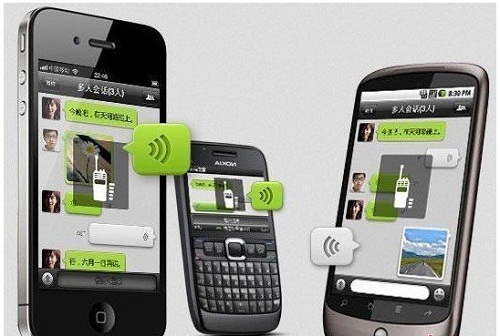 The exchange of name cards 交换名片 has long been a ubiquitous part of meeting new people in China.
But now it's increasingly likely to be accompanied by the frenzied flourishing of smartphones智能手机, as the participants add one another on WeChat, the phenomenally popular instant-messaging app made by the country's biggest Internet company, Tencent.
While name cards have yet to be completely supplanted 取代, many now also have a QR code 二维码 which, when scanned into a mobile phone, adds the card's bearer as a WeChat contact.
The popular function is one reason behind the rise of WeChat 微信 — called Weixin in Chinese — which is unseating the Twitter-like microblogging platform Sina Weibo as China's dominant social media.
Key Learning Points:
jiāohuàn míngpiān
交换名片
exchange name cards
zhìnéng shǒujī
智能手机
smartphones(n.)
qǔdài
取代
supplant (v.)
èr wéi mǎ
二维码
QR code (n.)
wēi xìn
微信
WeChat
nǐ zhīdào jiāohuàn míngpiān zài zhōng guó shāngwùlǐyí zhōng shì bìbùkěshǎo de yī bùfēn mɑ
A:你知道交换名片在中国商务礼仪中是必不可少的一部分吗?
Do you know the exchange of business name cards is an essential part of business etiquette in China?
dāngrán wǒ dāngrán zhīdào le
B:当然,我当然知道了
sure,I know.
wēixìn shì tōngguò shǒujī wǎngluò fāsòng wénzì yǔyīn túpiān shìpín  shì zhōngguó téngxùn gōngsī kāifā de nǐ yǒu wēixìn mɑ
A:微信是通过手机网络发送文字,语音、图片、视频,是中国腾讯公司开发的。你有微信吗?
WeChat is a mobile phone text,voice messaging,pictures and videos communication service,it is developed by Tencent in China,did you use WeChat?
bù wǒ méiyǒu
B:不,我没有
No,I didn't.
Tags: Learn Chinese words and dialogues, mobile phone, Wechat