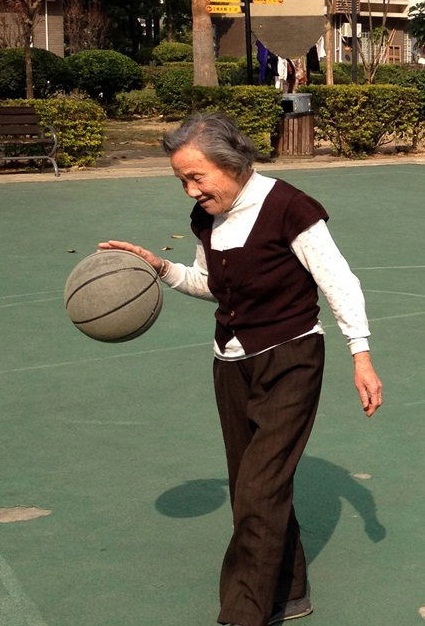 An 80-year-old grandma who was practicing shooting hoops 练习投篮 at a basketball court 篮球场 in Fuzhou on January 21 became an instant internet star 网络红人 after images of her impressive athletic strength began circulating across China's social media.
1月21日下午,福州江南水都名筑小区篮球场上,一个80岁的老奶奶正在练习投篮,令人印象深刻的运动图片在中国社会媒体传播后她瞬间变成了网络红人。
Besides basketball, the currently retired 退休的 granny routinely practices push-ups 俯卧撑 and sit-ups 仰卧起坐 every day, and can perform 150 push-ups and sit-ups in a time span of 20 minutes.
除了篮球,目前已退休的老奶奶每天每天坚持做俯卧撑和仰卧起坐,并能在20分钟的时间做150个俯卧撑和仰卧起坐。
This brings us so much happiness.
这给我们带来了非常多的快乐。
Key Words 重点词汇
liàn xí tóu lán
练  习 投  篮
practice shooting hoops
lán qiú chǎng
篮  球  场
basketball court
wǎng luò hóng rén
网   络  红   人
internet star
tuì xiū de
退  休  的
retired
fǔ wò chēng
俯 卧 撑
push-ups
yǎng wò qǐ zuò
仰   卧 起  坐
sit-ups