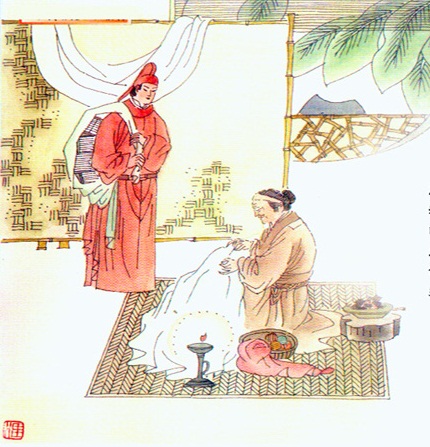 Yóu Zǐ Yín
游子吟
Mèng Jiāo (Táng)   
孟郊 (唐)
cí mǔ shǒu zhōng xiàn,yóu zǐ shēn shàng yī。
慈母手中线,游子身上衣。
lín xíng mì mì féng, yì kǒng chí chí guī。
临行密密缝,意恐迟迟归。
shuí yán cùn cǎo xīn,bào dé sān chūn huī。
谁言寸草心,报得三春晖。
(三春晖:春天灿烂的阳光,指慈母之恩。三春:旧称农历正月为孟春,二月为仲春,三月为季春,合称三春)
Explanations:
慈母用手中的针线,为远行的儿子赶制身上的衣衫。
临行前一针针密密地缝缀,怕的是儿子回来得晚衣服破损。
有谁敢说,子女像小草那样微弱的孝心,能够报答得了像春晖普泽的慈母恩情呢?
The thread in the hands of a fond-hearted mother
Makes clothes for the body of her wayward boy;
Carefully she sews and thoroughly she mends,
Dreading the delays that will keep him late from home.
Who says the little soul of grass waving.
Could for the warmth repay the sun of spring.
这是一首母爱的颂歌。通过回忆一个看似平常的临行前缝衣的场景,凸显并歌颂了母爱的伟大与无私,表达了诗人对母爱的感激以及对母亲深深的爱与尊敬。
This is an ode to glorifies the greatest universal love in the world-mother love. By recalling a seemingly ordinary sewing before leaving home,the author highlights and praises the great and selfless maternal love,which also demonstrates his gratitude and deep love and respect for his mother.
All this goes to show Mother' s deep love and care for her son, the son' s memory of his mother' s kindness and his distress at leaving home and failure to repay Mother's goodness. The verse evokes response in all children' s hearts as well as their profound love for mothers.The last line give the expression of the readers : who would say that he can give enough to pay off the debts of gratitude to Mother? how should children care for their loving parents who take pains to bring them up?
重点词汇 Learn Key Words and Phrases
针线
thread(n.)
赶制衣衫
Run up clothes
春晖普泽的
Sun of spring (parental love)