Hoping For a Century of Happiness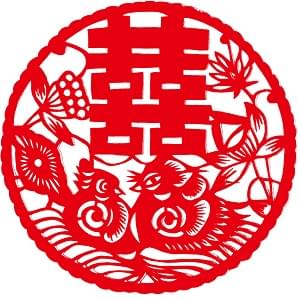 Everyone recognizes 喜, the Chinese character that represents fortune and happiness. The character 喜喜, literally meaning double happiness, is reserved for the special occasion of Chinese weddings only. The traditional Chinese wedding celebrates the new couple's matrimony by emphasizing the union of two families, paying tribute to the old generation for their love and support, and urging the young couple into early parenthood. During the last two decades however, young Chinese have become more and more attracted to the Western style wedding. Vows and veils are adopted alongside bows and qipao. Families and friends sit in separate areas. And, where economic means permit, honeymoon trips are planned. But what is it like when a non-Chinese marries a Chinese person? If you have experienced this then let us know!
我爱你
wǒ ài nǐ
I love you
我们结婚吧
wǒ mén jié hūn ba
Let's get married.
我想嫁给你(for the girls)
wǒ xiǎng jià gěi nǐ
I want to marry you.
我想娶你(for the guys)
wǒ xiǎng qǔ nǐ
I want to marry you.
嫁给我好吗(for the guys)
jià gěi wǒ hǎo ma
Will you marry me?
我愿意
wǒ yuàn yì
Yes, I will.
我们生活很幸福
wǒ mén shēng huó hěn xìng fú
We're happy together now.
恭喜
gōng xǐ
Congratulations!
有情人终成眷属
yǒu qíng rén zhōng chéng juàn shǔ
All shall be well, and Jack shall have Jill.
祝你们幸福
zhù nǐ mén xìng fú
I wish you a very happy couple!
你们真是天生一对
nǐ mén zhēn shì tiān shēng yí duì
You're a right match!
百年好合, 永结同心
bǎi nián hǎo hé,yǒng jié tóng xīn
May you love forever and devote yourselves to each other!
白头偕老, 早生贵子
bái tóu xié lǎo,zǎo shēng guì zǐ
Love each other till ripe old age. Have a son as soon as possible!
新娘
xīn niáng
Bride
新郎
xīn láng
Bridegroom
公公
gōng gong
Husband's dad
婆婆
pó po
Husband's mom
岳父
yuè fù
Wife's dad
岳母
yuè mǔ
Wife's mom
婚礼
hūn lǐ
Wedding
If you want to learn about daily Chinese, please click here to learn more.